Expert Care Open Later,
When You Need It
According to medical experts, the most common recreational injuries are bone and joint-related. One of the most common reasons people visit ERs or urgent care centers is because of sprained joints or broken bones.
The After Hours Clinic at Tucson Orthopaedic Institute is for acute orthopaedic injuries, and is staffed by trained orthopaedic specialists, resulting in lower costs and shorter wait times.
Acute orthopaedic injuries treated at the After Hours Clinic:
Strains, sprains, and minor dislocations
Breaks and fractures
Sports injuries
Torn ligaments or tendons
Sudden joint injuries
Work-related injuries – must bring employer's claim documentation
HOURS
Monday – Friday: 5PM – 9PM
Saturday: 9AM – 1PM
LOCATION
East Office – First Floor of TMC Orthopaedic & Surgical Tower
5301 E. Grant Road
Tucson, AZ 85712
(520) 784-6441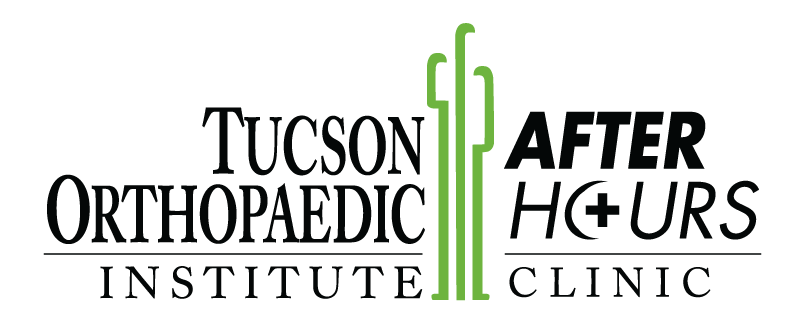 Certain types of injuries are not eligible for the After Hours Clinic including open wounds, auto accident injuries, and severe trauma injuries.
Patients with chronic orthopaedic conditions, post-surgical follow-up, medication refills and other on-going conditions should schedule an appointment during regular office hours. The Tucson Orthopaedic Institute After Hours Clinic does not treat general illnesses like sore throat, cough, flu, migraines, and infections.
IF YOU HAVE A LIFE-THREATENING CONDITION, CALL 911 IMMEDIATELY OR GO TO A HOSPITAL EMERGENCY ROOM.
Why Choose the Tucson Orthopaedic Institute After Hours Clinic?
We accept most major forms of insurance, as well as self-pay patients, and Care Credit®.
The co-pay for the After Hours Clinic is the same as your insurance's fee for a specialist office visit. Additional charges may be applied according to services provided during your visit.
The After Hours Clinic is staffed by a physician assistant (PA) or nurse practitioner (NP) specialty-trained in orthopaedic conditions. Additional staffing includes medical assistants and radiology technicians.
After checking in to the clinic, the PA or NP will assess the nature and extent of your injury, and prescribe an appropriate course of treatment. One of our orthopaedic surgeons will also review your X-rays and diagnosis within 24 hours of your visit.
Ortho Fast Track offers same-day and next-day appointments during our daytime hours for urgent orthopaedic care. If you require same-day care for sprains and strains, fractures, lacerations, dislocations, or sports and work-related injuries from 8:00 am – 5:00 pm, please call one of our six convenient locations to schedule an Ortho Fast Track appointment. Learn more about Ortho Fast Track.